ABOUT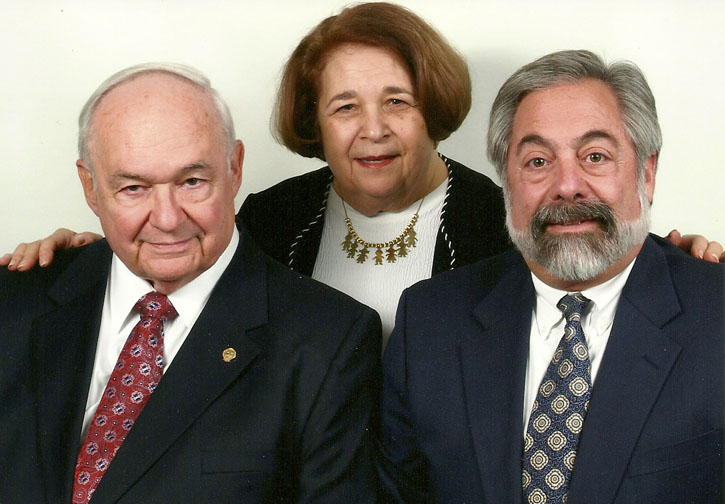 Birnbaum Funeral Service, Inc. was founded by Harold L. and Harvey C. Birnbaum in 1934. For more than 80 years, the Syracuse Jewish community has relied on the Birnbaum family. They believe that a good funeral director should be part of the community, always there in times of growth and happiness, as well as times of grief. Marty, Elaine(Ret.) and Joel, have been carrying on that family tradition. It has been an honor and a privilege continuing to serve the Jewish community.
Marty, Elaine(Ret.) and Joel are members of Temple Beth EI, Temple Adath Yeshurun, Temple Concord and support all Jewish Synagogues and Jewish Organizations. Elaine(Ret.) is a life member of Temple Beth EI Sisterhood and Hadassah. Both Marty and Elaine(Ret.) speak to school children in junior high, elementary, college and Hebrew schools. Marty and Elaine(Ret.), facilitated a Jewish Widow and Widower Circle of Support Group. Birnbaum Funeral Service, Inc. owns an extensive library of books on death for the community to use.
In November of 2005, Marty became President of the Jewish Funeral Directors of America, Inc. He is a former member of the board of Simmons Institute of Funeral Service. Marty was president of NY State and Onondaga-Oswego County Funeral Director's Associations, past master of Philo-Mt. Sinai Masonic Lodge 968, F and AM, a fiftieth year member of masonic order, and a founder and present member of Syracuse Cemetery Care Corp. He served on the board of directors at Temple Beth EI, is a past three year President of Temple Adath Yeshurun, former member of the board of the Jewish Home of Central, NY, and the Foundation of the Jewish Home.
Elaine(Ret.), an elementary school teacher and licensed funeral director, is skilled in helping children to understand and cope with death. She has explained death to children at the funeral home and in schools. In connection with her interest in helping children, she has assembled a large collection of books that explain dying, death and grief for children and adults. Bibliographies are available. We will be happy to send you a copy upon request. Elaine(Ret.), also served for many years on the Advisory Board of Hope for Bereaved, in Syracuse.
JOEL M. FRIEDMAN
Joel is a life resident of Syracuse. He is a 1968 graduate of Wm. Nottingham High School, received a B.S. in Business Administration from American International College, in Springfield MA, in 1972, and a 2006 graduate of Simmons Institute of Funeral Service in Syracuse.
Joel and his family are members of Temple Adath Yeshurun and actively support the other Temples and Jewish organizations in our community.
He is a board member at the Jewish Community Center and the Jewish Federation of Central New York, served as a co-chairperson for the Jewish Federation of Central New York's Super Sunday, is board member for the Yom Hashoah event, and is a board member of the Central New York Funeral Directors Association.
The Central New York community have Trusted Marty, Elaine(Ret.) and Joel's expertise, service, compassion, integrity and genuine caring before, at, and after a death of a loved one.